Specifications:

Logo
Responsive Web Design
Social Media
Mailing List
We have taken a stride into the modern digital era with a new website that works across different devices and a variety of social media channels to help tell our story, just as the company moves into an exciting new chapter.
We have changed our mark
Ever since HR Plastering was established some 20 years ago we have used the initials of the original founders Holmes Robertson to provide the identity. This mark, with its subtle reference to the plasterers hand trowel, continues to communicate our business well and only required some small changes to ensure it reflected the direction of the company. So with slightly thickened letter shapes and a new colour palette our identity was re-born.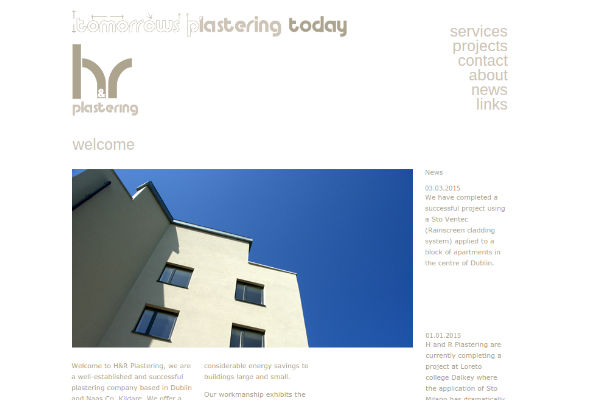 Image: Former website and logo
Colours to reflect our direction
Over the years HR Plastering have become noted for their work with innovative construction material that in many contexts challenged conventional building approaches. These projects applied sustainable solutions that require specialist skills and a great attention to detail. To reflect these core business activities our identity now fashions a bright green colour which is complemented by a dark grey to represent our constant drive for quality and professionalism.
We have embraced the need to tell our story over different digital platforms; dynamic spaces that include our website blog and social media.
We are all speaking digital
We recently made the decision to update our website to improve the way we communicate our business, part of which has involved designing it to work across different computer and mobile devices. We employed the creative services of Elluminate www.ellumin8.uk who not only did a fantastic job of updating our logo but have given HR Plastering a very contemporary look whilst creating a site that provides clarity to what we do and a platform for greater communication.
A new space to tell our story
Possibly one of the more exciting developments has been the addition of a blog. From here we hope to provide informed posts about our activities and showcase the interesting projects we complete. We also hope it will be a space to reflect on the exciting developments that are occurring in the construction industry especially as we seek to find solutions for more sustainable growth.
Getting Social!
Finally we have embraced the need to tell our story over different digital platforms, Facebook, Google+ and Twitter and in time we will add others to our list. The construction industry is a lively community and we look forward at getting more involved.
We would welcome your feedback on our new developments.
Also, if you would like to stay up to date with our activities or glance our reflections on industry activities please sign up to our mailing list for a digest straight to your inbox.